The toys r us wave 7 is out, and man does this wave ROCK!
Two out of the four packs are exclusive, and three 'mates from the packs are brand new characters. DST has really stepped up with the TRU waves!
First up to review is the Betsy Braddock and Lockjaw exclusive pack.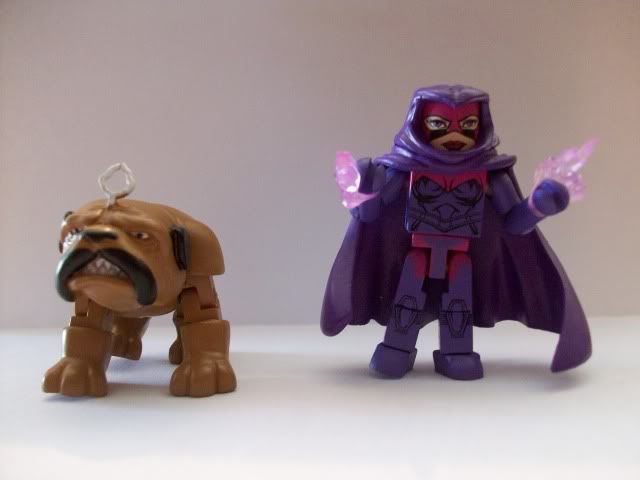 Lockjaw is composed of all new slip on sculpted pieces, whereas Betsy is all reused parts.
Lockjaw is a great figure! The face sculpt is spot on, and as you can see, he looks right at home with Blackbolt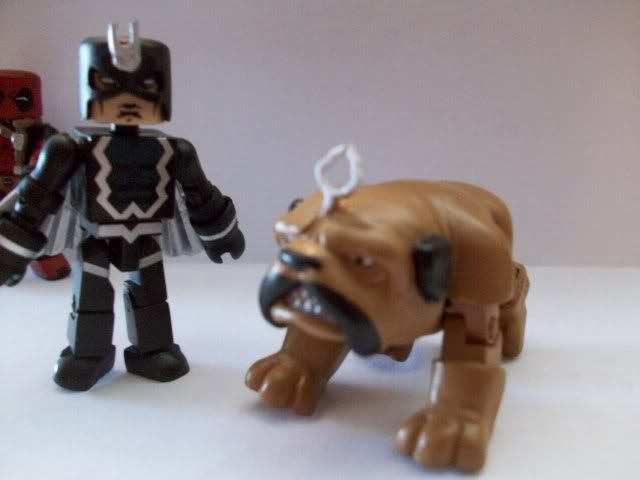 Woah! Wait, is that Deadpool?
Damn right it's me! And what the 'eff is that? A giant pug?
No, that's Lockjaw of the Inhumans. He wasn't always a dog, he was mutated by the Terrigan Mists. He can teleport!
A giant mutant talking dog eh? You sure this is a Marvel character and not the plot of a Sci-Fi Original Movie??
Also included in the set is Betsy Braddock, who is commonly now known as Psylocke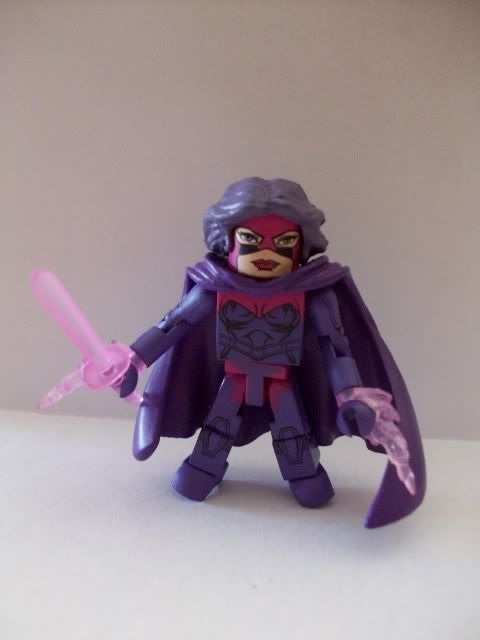 As said before, she features no new parts. Her cape comes from Moon Knight, which I think is a little too big for the character. The psyonic knives and sword were both previously seen with Psylocke. However, the sword is cast in clear purple this time. Also, she comes with a hairpiece, which I beleive is a reuse. Overall, she's a great new character to have, but the real reason to get this pack isn't her.
So did she get some plastic surgery, because I swear she looks Asian now.
Oh yeah! I forgot to mention that she was captured by The Hand so that her mind could be swapped with the leader's lovers mind. So now, she's a ninja!
SEXY!

The next pack is the same as one released in series 36, Neo-Classic Ironman and Stilt-Man
Stilt-Man? Really? First we get a big teleporting mutt, then a girl who's mind gets placed into a ninja, and now a superhero on stilts.
Villain actually.
:sigh:
If it makes you feel any better, he's a goofy character, like you.
DO NOT COMPARE ME TO A GIANT SILVER STILT DOOFUS!
Stilt-Man is extremely innovative, and has got to be one of DST's best yet. The stilt factor is tackled by making connector pieces that attach to a new leg sculpt and then attach to an included base so he does not topple. The pieces can be locked into each other, so if you wanted, you could have a stilt man taller than you, or taller! Each figure comes with 4 stilt pieces, so right away he's still pretty tall. I'm gonna need at least 8 more pieces until I'm happy though.
The bigger they are, the harder they are to kill!
I'm pretty sure that's NOT how that goes.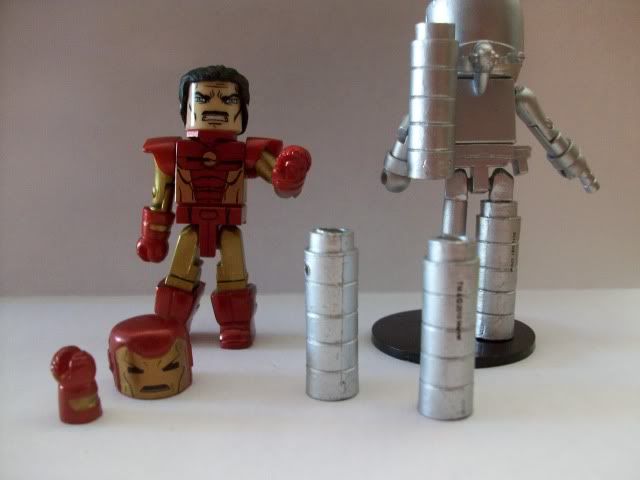 The Neo-Classic Ironman in the set is an alright figure. I'm not really liking the gold on all these figures. Ironman has only been drawn with gold armor since the move, but DST has for some reason ignored this and has made all of his recent armors gold rather than the yellow they should be. This 'mate also lacks pizzaz because the armor was always drawn with a huge chest piece, but here, there is no bulk. Oh and of course I get the one with the crazy messed up tampo!
Deadpool, you have anything to say? Deadpool? Ah crap where'd he go!?
Maybe this is a good thing! I can do my review without constant interruption!
The next set is also a re-release, it's Silver Centurion Ironman and Crimson Dynamo
Both feature all new sculpted slip-on chest pieces, head pieces, boots, and hands. Both also feature a bright metallic red paint job.
The Ironman of the set is an update of the exclusive from 2004. The newer one is overall better IMO, but the original is much more detailed.
Onto Crimson Dynamo. He's perfect! A wonderful representation of the character.
Underneath the armor is a Communist symbol suiting the character.
Oh, so Marvel's communist too?
Oh joy, you're back. Where were you?
Getting my chimichanga out of the microwave.
When did you put a chimichanga in the microwave?
Before we started
Well isn't it cold we've been doing this for a while.
No, I had it in the whole time. I went to get it out, but....
But what?
.....I owe you a microwave.... And a kitchen.... And half a new house...
I.. I don't know how to respond.
How about you show everyone how Silver Centrioun and Dynamo look like a 70's porn star and the ex-ruler of Communist Russia!
DP! This is a PG board.
Oh really, then how do you explain the "Arggh My Eyes" thread?
Point taken. Here's the pic:
Finally, the moment everyone's been waiting for, the Hulkbuster Ironman and Gamma Hulk!
HB is without doubt, my favorite mate yet released.
You know I'm standing right here!
Oh yeah, you're cool too, but I mean look at him!
Hulkbuster is a brand new sculpt entirely, and the helmet flips up to reveal an Ironman mask resembling his Extremis armor. Underneath the chest armor is an extremis pattern as well. The arms and legs do not have any tampo on them however.
And he comes with a Jolly Rancher minimate too!
No dude, that's the hulk!
No no no, Hulk isn't green apple flavored! Talk about a choking hazard! What little kid wouldn't eat that!
Ha, you're kinda right. Any ways, Green Apple Hulk is completely parts reuse. The tampo is detailed and a great representation of Hulk. I would love to see the same thing on a regular hulk down the line. Overall this Hulk is alright. It's a great redux of the old one. While not completely necessary, it's still good to have.
Jerks should have included me! I may not taste like green apples, but I taste like Chinese factory residue! And paint! And molded plastic!
My overall thoughts on this wave:
Two new exclusive packs with two entirely new unique sculpts sure makes this wave a hit in my book.
Deadpool's thoughts on this wave:
Udder CRAP! There's no Deadpool! I mean, there could have been Deadpool puppy: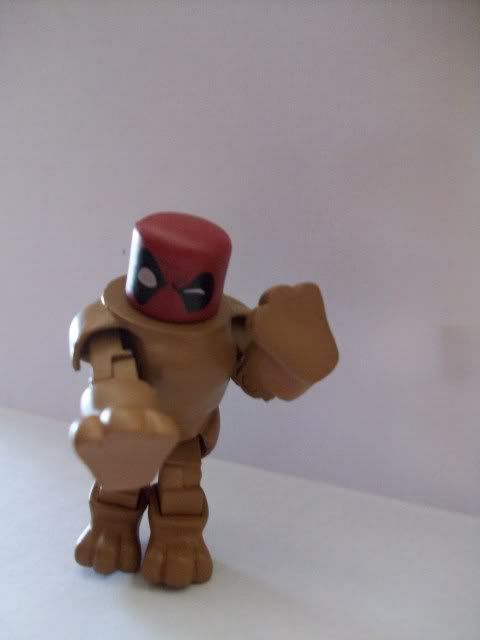 Or Stilt-Pool:
Or Hulkbuster Deadppol:
Thanks for looking! Hope you enjoyed the review!!
Go! Get out of here! Save your money to buy me on the second hand market! I hear I'm climbing towards 50 dollars!